Autori: Timothée Parrique, Kate Raworth, Vincent Liegey, European Environmental Bureau, European Youth Forum, Friends of the Earth Europe, WeAll.
Politički lideri okupljaju na drugoj konferenciji u Evropskom parlamentu sa ciljem razmatranja kako se pokrenuti "izvan rasta", odnosno kako prevazići rast. Mi, dole potpisani predstavnici akademije i organizacija civilnog društva, vidimo geopolitičku krizu kao priliku da se odvojimo od društveno i ekološki štetnog rasta i kompeticije, te umesto toga zajednički podstaknemo udruženi rad na postizanju blagostanja.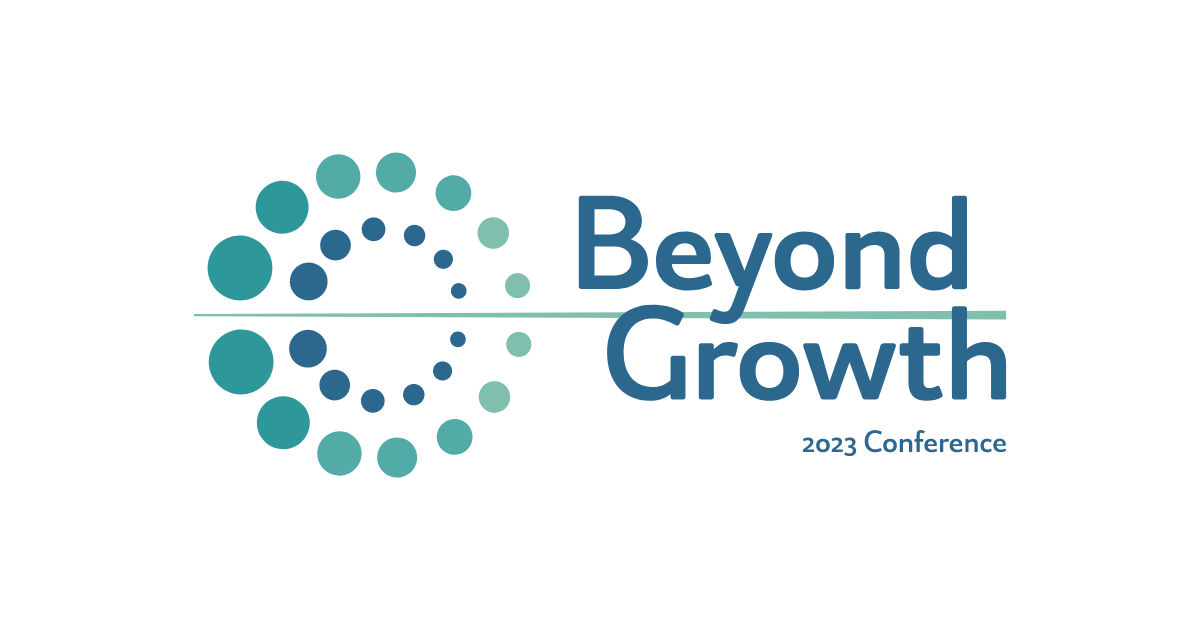 Ne postoji empirijska osnova koja ukazuje da je moguće globalno i u dovoljnoj meri odvojiti ekonomski rast od pritisaka na životnu sredinu. Težnja ka beskrajnom ekonomskom rastu od strane zemalja sa visokim prihodima predstavlja problem jer ili smanjuje ili poništava rezultate ekoloških politika. Trenutni klimatski haos i ispreplitana mreža života od koje zavisi naše društvo predstavljaju egzistencijalnu pretnju miru, bezbednosti vode, hrani i demokratiji.
Napredak ka post-rast ekonomiji ne predstavlja samo preduslov za preživljavanje. To je osnova napredovanja. Ovo zahteva demokratski planirano i pravično smanjenje proizvodnje i potrošnje, koje se ponekad naziva "odrast", u onim zemljama koje prevazilaze svoje ekološke resurse. Ovo je evropski globalni mirovni projekat, jer njen trenutni ekonomski rast izaziva sukobe u Evropi i izvan nje.
U kontekstu nacija sa visokim dohotkom, manji otisak ne znači i lošije uslove života. Politike dovoljnosti koje se fokusiraju na štedljivost, smanjenje resursa i smanjenje radnog vremena mogu značajno povećati blagostanje i smanjiti pritiske na životnu sredinu, stvarajući tako mogućnost za značajno poboljšanje blagostanja, bez ekonomskog rasta.
Da bismo obezbedili najviši kvalitet života uz najmanji otisak, moramo potpuno promeniti ciljeve i pravila ekonomske igre. U ekonomiji nakon rasta, trenutni fokus na kvantitativni rast bi bio zamenjen ciljem napredovanja u regenerativnoj i distributivnoj ekonomiji, onoj koja pruža kvalitativno blagostanje zadovoljavanjem potreba svih ljudi u okviru živih planetarnih granica – kako je objašnjeno u okviru Ekonomska krofna (Donut Economics).
Pokazalo se da su tržišta neopremljena za rešavanje kritičnih izazova u našem društvu. Da bi privreda služila ljudima, a ne obrnuto, ljudima se mora vratiti kontrola nad ekonomijom. Da bi se menjala pravila igre, moramo učiti iz već postojećih inicijativa. Na primer, širenje modela za neprofitne zadruge širom EU.
U svetlu ovih hitnih izazova i podsticajnih mogućnosti, pozivamo Evropsku uniju, njene institucije i države članice da sprovedu:
Post-rast evropske institucije:

da konstituišu stalne strukture u Komisiji, Veću, Parlamentu i unutar država članica za procenu post-rast strategija i puteva.

Evropski zeleni dogovor koji prevazilazi paradigmu rasta:

da osmisle novi vodeći program oblikovan oko pristupa sistemskih promena koji teži stvaranju uspešne budućnosti unutar planetarnih granica, sa rastom kao neophodnom prelaznom fazom ka destinaciji nakon rasta.

Politike koje prevazilaze rast

treba da budu zasnovane na četiri principa:
Biokapacitet:

postepeno ukidanje fosilnih goriva, ograničenje vađenja sirovina i mere zaštite prirode i obnove zdravih i otpornih zemljišta, šuma, morskih i drugih ekosistema. Na primer, Ugovor o neširenju fosilnih goriva, Zakon o pravdi za resurse i otpornosti koji uključuje obavezujući cilj smanjenja materijalnog otiska i restauraciju prirode zasnovanu na stvarnom području.

Pravednost:

fiskalni instrumenti za negovanje ravnopravnijeg društva iskorenjivanjem ekstrema prihoda i bogatstva, kao i ekstra-profita. Na primer, porez na višak ugljenika, određivanje minimalnih i maksimalnih prihoda.

Blagostanje za sve:

obezbeđen pristup osnovnim infrastrukturama putem poboljšane, ekološki osetljive države blagostanja. Na primer, univerzalne osnovne usluge (uključujući ljudska prava na zdravlje, transport, negu, stanovanje, obrazovanje, rodnu ravnopravnost i socijalnu zaštitu itd.), garancije za posao, kontrola cena osnovnih dobara i usluga.

Aktivna demokratija:

okupljanje građana u savete sa mandatom, da formulišu društveno prihvatljive strategije dovoljnosti i jačaju politike zasnovane na ekološkim ograničenjima, pravičnosti i dobrobiti za sve i jačoj ulozi sindikata. Na primer, forum o lokalnim potrebama, klimatske konvencije, participativno budžetiranje.
Prošlo je pet godina od prve "post-rast" konferencije. Unutar civilnog društva i akademske zajednice, ideje koje su zasnovane na kritici rasta nikada nisu bile jače. O detaljima ovih ideja trenutno se raspravlja u Evropskom parlamentu i Evropskoj komisiji. Naučna znanja i uvidi u javne praktične politike su dostupni, kako bi ideje o odrastu i post-rastu sada postale stvarnost. Krize sa kojima se suočavamo su takođe prilike za stvaranje novog sistema koji može da obezbedi blagostanje za sve, istovremeno omogućavajući uspešan demokratski, sporiji, ali slađi način života.
Spisak naučnih izvora dostupan je ovde.
Potpisnici/e
Organizacije civilnog društva
European Environmental Bureau
Friends of the Earth Europe
European Youth Forum
Wellbeing Economy Alliance
The Club of Rome
International Society for Ecological Economics
Institute for Political Ecology
Commons Network
Economy for the Common Good
Degrowth in Action
European Policy Centre
Ecological Economics For All
US Society for Ecological Economics
Zero Waste Europe
Scientifiques en rebellion
WEAll Youth
Degrowth Collective
France Nature Environnement
Seas At Risk
SOMO
London Mining Network
Post Growth Institute; Southern Oregon University
Asociación Biodiversa
Steady State Manchester
Grands-Parents pour le Climat (Belgique francophone)
Equidad de Género: Ciudadanía, Trabajo y Familia
Fridays For Future South Tyrol
Climate Vanguard
Degrowth Movement Italy (MDF)
Les Amis de la Terre Belgique
ICLEI Europe
HERWIN
Vrede vzw
LEF/FGE
Focus Association for Sustainable Development
Policy Lab Slovenia
CIDSE
Cargonomia, Degrowth research and experimentation cooperative, Budapest
Estonian Green Movement
Associazione per la decrescita
Danish Committee for Health Education
ZERO – Association for the Sustainability of the Earth System
Teater K
PowerShift e.V.
Amis de la Terre France
European Anti-Poverty Network (EAPN)
SOLIDAR
Foundation for the Economics of Sustainability
An Taisce – the National Trust for Ireland
Ecologistas en Acción
REScoop.eu
Youth for Climate Belgium
Poems for Parliament
Wellbeing Economy Lab
Canopea
Planet-N
EKO KROG Slovenia
CATAPA
Make Mothers Matter
European Society for Ecological Economics
Hot or Cool Institute gGmbH
Zero waste Žalec
SDG Watch Europe
Good4Trust.org
Ekumenická akademie (Ecumenical Academy)
Electra Energy Cooperative
WFTO- Home of Fair Trade Enterprises
Platform for Social Housing
CONCORD Europe
tools for good
Re-set: platform for socio-ecological transformation
EUROSOLAR Catalunya
Parma Sostenibile
Přátelé přírody /Friends of Nature
EUROSOLAR.CZ
Benzyme Ventures
Ultra sieste
Zsámboki Biokert Hungary
Bystro
Lipensko pro život, z.s.
TEREZA Educational Centre
Living Economies Forum
Fundación vanES Sabayes Spain
Polish Zero Waste Association
European Network Against Racism (ENAR)
Association For Promotion Sustainable Development
The Social Guarantee
Sistema B
Green European Foundation
Stowarzyszenie Ekologiczne EKO-UNIA
Bond Beter Leefmilieu (BBL)
Post Carbon Institute
Fundacja Kupuj Odpowiedzialnie (Buy Responsibly Foundation)
ClimaTalk
Limity jsme my
Sciaena
African Circular Economy Network (ACEN)
Green Economy Coalition
eco-union
Nonprofit Ventures
Rede para o Decrescimento
Alter Kapitae
Oikos – Think Tank for Socio-Ecological Change
ICLEI – Local Governments for Sustainability, Europe
Pro Natura – Friends of the Earth Switzerland
NaZemi
Hnutí DUHA- Friends of the Earth Czechia
REVO Prosperidad Sostenible
Wetlands International Europe
Amigos de la Tierra – Friends of the Earth Spain
Fundação Montescola
Friends of the Earth Cyprus
Friends of the Earth Estonia
Konsent z.s
Garden of Eden Projects Ireland
Nyt Europa
Arnika
Amigas da terra
Surfrider Foundation Europe
Friends of the Earth Ireland
Degrowth.info
ECOLISE
National Society of Conservationists – Friends of the Earth Hungary
Zero Waste Latvia
Jordens Vänner – Friends of the Earth Sweden
Population Matters
An Claíomh Glas
Tactic
European Energy Research Alliance
greenskills
The Institute of Economics Zagreb
Sustainable Population Australia
Energy Cities
New Worlds Group
Landsrådet för Sveriges Ungdomsorganisationer
Local Futures
Youth and Environment Europe
Waag Futurelab
The Emergence Network
Women's International League for Peace and Freedom (WILPF)
Communal Forum on Climate Protection
Začni učit!, z.s.
Vlaamse Jeugdraad
Aisthanoumai
Green Liberty Lithuania
Jesuit European Social Centre
Laudato Si Movement
Recycling Netwerk Benelux Umweltdachverband
Friends of the Earth Malta
GLOBAL 2000 – Friends of the Earth Austria
Milieudefensie – Friends of the Earth Netherlands
Het Burgerparlement/Le Parlement Citoyen
NOAH – Friends of the Earth Denmark
Fridays For Future Austria
Syndicat Printamps Écologique
Za Zemiata – Friends of the Earth Bulgaria
Association Recherche et Expérimentation sur la Décroissance et la Transition
ACV – CSC
Observatoire de la Post-Croissance et de la Décroissance
Akademici i stručnjaci
Timothée Parrique
Kate Raworth
Vincent Liegey
Olivier De Schutter
Milena Buchs
Ekaterina Chertkovskaya
Robert Costanza
Dominique Meda
Eloi Laurent
Giorgos Kallis
Federico Demaria
François Schneider
Eva Fraňková
Jason Hickel
Julia Steinberger
Sandrine Dixson-Decleve
Adélaïde Charlier
Camille Étienne
Tim Jackson
Nick Fitzpatrick
Vedran Horvat
Alexandra Köves
Tariq Al-Olaimy
Silvia Montagnani
Emma Marzi
Brototi Roy
Leonie Saleth
Marceau Challet
Merlin Keitz
Juan Pablo Arellano
Claudio Cattaneo
Nikola Lange
Martin Calisto Friant
Emily Meret Bankert
Emilie de Bassompierre
David Hofmann
Milica Kočović De Santo
Myriam Best
Daniele Vico
Lina Lefstad
Camilo Rodriguez
Matthieu Lietaert
Jean-Louis Aillon
Barry McMullin
Lucas Remue
Max Keijzer
Giuseppe Massaro
Lisette von Maltzahn
Lorenzo Velotti
Meera Ghani
Riccardo Mastini
Francesca Magnolo
Mladen Domazet
Mirjam Scholtens
Leila Siebke
Giacomo Luigi Delgado
Amelia Elvins
Martina Logi
Mathilde Dumoulin
Gabriel Fabre
Noémie Cadiou
Maiko Mathiesen
Kanika Prajapat
Till Kellerhoff
Claudia Fry
Christian Schulz
Aljoša Slameršak
Óscar Carpintero
Tommaso Brazzini
Jesus Martin Gonzalez
Mario Díaz Muñoz
Margarita Mediavilla Pascual
Elena Emrick-Schmitz
Nathalie Roy
Lukas Eggler
Josephine Becker
Mario Pansera
James Scott Vandeventer
Fernando Andrés Sánchez González
Nika Grabar
Elena Hofferberth
Dan O'Neill
Aileen McLeod
Johana Waldhansová
Filka Sekulova
Gareth Dale
Anke Schaffartzik
Mario Pansera
Jakub Rok
Ivan Ðula
Simone D'Alessandro
Doris Fuchs
Elke Weik
Max Koch
Benjamin Tyl
Arnaud Diemer
Petter Næss
Martin Fritz
Vasna Ramasar
François Briens
Adam Marshall
Predrag Momčilović
Elisabeth Skarðhamar Olsen
Adrien Plomteux
Alf Hornborg
Clément Choisne
Joseba Azkarraga
Christian Dorninger
Swyngedouw Erik
Thomas Smith
Hervé Corvellec
Eduardo Missoni
Manuela Zechner
Nina Isabella Moeller
Laura Rival
Ana Sofia Poças Ribeiro
Michel Pimbert
Tilo Meißner
Marion Real
Eric Ponthieu
Jennifer B. Hinton
Peter A. Victor
John Barry
Onofrio Romano
Katharina Richter
Katerina Brandes
Andri Werner Stahel
Oriana Rainho Brás
Jennifer Wells
Helmut Haberl
Rosemary Venn
Ben Purvis
Orsolya Lazányi
Benjamin Lowe
Eeva Houtbeckers
Christopher Boyce
Ivan Murray
Ahac Meden
Pat Devine
Robert Winthrop
Ester Galende Sánchez
Toni Ruuska
Jamie Morgan
Richard Hull
Grégoire Wallenborn
Susan Paulson
Pasi Heikkurinen
Utkuhan Genc
Shivani Kaul
Alexander Paulsson
Simon De Muynck
Barbora Kleinhamplová
Erik Gomez-Baggethun
Katherine Trebeck
Eirini Erifyli Tzekou
Tomislav Medak
Giulio Galdi
Barbara Smetschka
Richard Wilkinson
Kimberley Vandenhole
Tom Bauler
Félix Garnier
Claire Roumet
Fabrice Flipo
Jan Otto Andersson
Kate Pickett OBE
Kinga Kovacs
Janne I. Hukkinen
Solène Sureau
Julien Vastenaekels
Christian Kerschner
Lorenzo Velotti
Jakub Kronenberg
Nathalie Wergles
Sara Pavesio
Ilona M. Otto
Lucía Muñoz Sueiro
Antoine Tiberj
Benedikt Schmid
Xavier Gabet
Laure Teulieres
Reynaud Christian
Paul Sutton
Florian Polsterer
Patrick Canadas
Cécile Renouard
Guillaume Le Mailloux
Tommaso Luzzati
Marie Pratzer
Lucia Pezo Alvarez
Amandine Crespy
Riccardo Mastini
Marta Conde
Christophe Coillot
Albin Emanuel Brattberg
Aiora Zabala
Lina Lefstad
Phedeas Stephanides
Sylvie Ferrari
Patrizio Ponti
Nicola Countouris
Halliki Kreinin
Tomáš Imrich Profant
Martin Cerny
Arnošt Novák
Fynn M. Schmidt
Melen Le Corre
Eléonore Fauré
Milica Kočović De Santo
Lilli Möller
Branko Ančić
Fernando A. Frechoso-Escudero
Jean-Michel Hupé
Clelia Sirami
Marc Deconchat
Vanessa Lea
Julian Carrey
Julien Gros
Mercier Manuel
Florian Debras
Guasch Cathy
Steffen Lange
Dr Beth Stratford
Odin Marc
Karine Leblanc
Marianne Blanchard
František Jelínek
Ragueneau Olivier
Bob Wilson
Patrick Bresnihan
Inge Røpke
Beatriz Macchione Saes
Martin Frébourgfc
Wolfgang Cramer
Elsa Jourdain
Laura Schuft
Emil Weis Brix
Mohamed Amine Boussejra
Cédric Sueur
Malo Mofakhami
Viviane Baladi
Mathias Rollot
Mathieu Chassé
Florence Joly
Ethemcan Turhan
Robert Wade
Joëlle Saey-Volckrick
Favry Anouk
Jenny Ufer
André Barata
Jérémie Cavé
Guillaume Mandil
Janina Urban
Peter Doran
Iñigo Capellán-Pérez
Remi Douvenot
Tommaso Luzzati
Emilie Letouzey
Alex Myerson
Stefanie Gerold
Péter Párdi
Nadia Johanisova
Marco Morosini
Julien Milanesi
Cécile Barnaud
Philippe Borsa
Marianna Joy Coulentianos
Jean-Louis Martin
Cédric Gaucherel
Jennifer Wilkins
Vincent Douzal
Nicolas Bierne
Alexandre Gondran
Martine Antona